TCC Kids Volunteer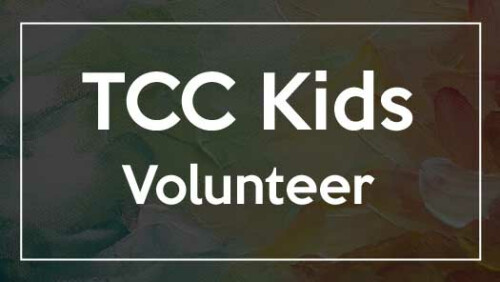 Children's Ministry
Our ministry would not exist without an amazing volunteer team! The following are possible positions:
Greeter
This person arrives approximately 15 minutes before the start of the service to screen all persons entering the children's wing. Once our families have arrived the greeter can leave to attend the service but needs to return at the end just before parents arrive to pick up their kids.
Courtesy Desk
Our courtesy desk attendants greet all families and assist with check-ins. They also assist new families in becoming acclimated to our procedures.
Nursery Assistant
These volunteers have the best job; they get to hold and play with babies! Although there is no specific lesson, volunteers are encouraged to pray over their small charges.
Teachers
Each classroom has a lead teacher. This person will lead the lesson and be the contact person for parents at drop off and pick up. Teachers need to be at least 18.
Assistants
Each classroom has 1 or 2 helpers depending on the volume of the class. Assistants can be students aged 4th grade and up. In some rooms, such as the 1-3 grade room, assistants may take on the role of small group leader and as such must be mature believers.
The process for applying is as follows:
Fill out the form below and submit to our children's ministry assistant Vicki Schick. If for some reason you need a paper form, please reach out to her at

.

Provide two references.

Approve a background check. You will receive an email from a company called Checkr. Please respond promptly to initiate the background check.

Please view the youth protection video.

Sign the youth affirmation statement after you have viewed the video.

Arrange a time to come and observe the position in which you hope to serve. We will go over a checklist of training content to get you all set for your first time serving!