Series: Exodus: The God Who Is
A God Who Covenants With Us
November 08, 2020 | Mike Stancak
Passage: Exodus
There are certain kinds of relationships that can't happen casually. You don't partner in real estate investment over a hand shake and well wishes. We don't (shouldn't) commit to the union of man and woman the way we commit to binge watching a Netflix show. These relationships require more of us. They happen in the context of promises and contracts, protections and agreements. In the same way, as God brings humans into relationship with him, he does it through the same means, in this case, the covenant. This week the covenant ceremony for God's people is completed and we see how this covenant is about far more than just Israel but is about the salvation of the world.
---
TCC Order of Worship, 11.08.20
WELCOME
CALL TO WORSHIP
Deuteronomy 6:4-5, Leviticus 19:18
Leader: Lift up your hearts
Congregation: Our hearts are lifted up to the Lord
CONFESSION
Almighty and most merciful Father,
we have erred and strayed from your ways like lost sheep.
We have followed too much the devices and desires of our own hearts.
We have offended against your holy laws.
We have left undone those things which we ought to have done,
and we have done those things which we ought not to have done;
and apart from your grace, there is no health in us.
O Lord, have mercy upon us.
Spare all those who confess their faults.
Restore all those who are penitent, according to your promises declared to all people in Christ Jesus our Lord.
And grant, O most merciful Father, for his sake,
that we may now live a godly, righteous, and sober life,
to the glory of your holy Name. Amen.
ASSURANCE OF FORGIVENESS IN CHRIST
Hebrews 12:1-2
CONFESSION OF FAITH (APOSTLE'S CREED)
I believe in God, the Father almighty,
creator of heaven and earth.
I believe in Jesus Christ, his only Son, our Lord,
who was conceived by the Holy Spirit
And born of the virgin Mary.
He suffered under Pontius Pilate,
was crucified, died, and was buried;
he descended to the dead.
On the third day he rose again.
He ascended into heaven
and is seated at the right hand of the Father.
He is coming again to judge the living and the dead.
I believe in the Holy Spirit,
the holy catholic* church,
the communion of saints,
the forgiveness of sins,
the resurrection of the body,
and the life everlasting. Amen.


Open The Eyes of My Heart

Verse 1
Open the eyes of my heart Lord
Open the eyes of my heart
I want to see you
I want to see you
Chorus
To see you high and lifted up
Shining in the light of your glory
Pour out your power and love
As we sing holy holy holy
Ending
Holy Holy Holy
Holy Holy Holy
Holy Holy Holy
We want to see you
This Is Amazing Grace


Phil Wickham
Verse 1
Who breaks the power of sin and darkness
Whose love is mighty and so much stronger
The King of Glory the King above all kings
Verse 2
Who shakes the whole earth with holy thunder
Who leaves us breathless in awe and wonder
The King of Glory the King above all kings
Chorus
This is amazing grace
This is unfailing love
That You would take my place
That You would bear my cross
You laid down Your life
That I would be set free
Oh Jesus I sing for all that You've done for me
Verse 3
Who brings our chaos back into order
Who makes the orphan a son and daughter
The King of Glory the King of Glory
Verse 4
Who rules the nations with truth and justice
Shines like the sun in all of its brilliance
The King of Glory the King above all kings
Bridge
Worthy is the Lamb who was slain
Worthy is the King who conquered the grave
Jesus Paid It All


Traditional Hymn
Verse 1
I hear the Savior say,
thy strength indeed is small
Child of weakness, watch and pray,
find in me thine all in all
Verse 2
Lord, now indeed I find
thy power and thine alone
Can change the leper's spots
and melt the heart of stone
Chorus
Jesus paid it all All to Him I owe
Sin had left a crimson stain
He washed it white as snow
Verse 3
And when before the throne
I stand in him complete
Jesus died my soul to save
my lips shall still repeat
Bridge
O praise the one who paid my debt
and raised this life up from the dead
SCRIPTURE READING
Exodus 24:3-11
Leader: This is the Word of the Lord!
Congregation: Thanks be to God!
SERMON
LORD'S SUPPER
Promises

by Maverick City Music
Verse 1
God of Abraham God of covenant
and of faithful promises
Time and time again You have proven
You'll do just what you said
Pre-Chorus
Though the storms may come
and the winds may blow
I'll remain steadfast
And let my heart learn
when you speak a word
It will come to pass
Chorus
Great is your faithfulness to me
Great is your faithfulness to me
From the rising sun, to the setting same
I will praise your name
Great is your faithfulness to me
Verse 2
God from age to age
though the earth may pass away
Your word remains the same
Your history can prove
there's nothing You can't do
You're faithful and True
Bridge
I put my faith in Jesus
My anchor to the ground
My hope and firm foundation
He'll never let me down
Father You Are All We Need


Dustin Kensrue
Verse 1
Our father who in heaven reigns How Great and mighty is your name Your kingdom come Your will be done Now here on earth as is above
Verse 2
O give to us our daily bread And keep our hungry spirits fed May all our satisfaction be In you whose grace has set us free
Chorus
Give us hope give us faith
Help us trust in your guidance
From the depths of Your grace
You have richly provided
Thank you thank you
Father you are all we need
Father you are all we need
Verse 3
Forgive us all our trespasses
As we forgive when sinned against
Though evil seeks to hide your face
We fix our eyes on you by faith
Bridge
We lift you high above all names
Your kingdom will forever reign
To you the glory and the power forevermore
Resurrecting


by Elevation Worship
Verse 1
The head that once was crowned
with thorns Is crowned with glory now
The Savior knelt to wash our feet
Now at his feet we bow
Verse 2
The one who wore our sin and shame
Now robed in majesty
The radiance of perfect love
Now shines for all to see
CHORUS
Your name, Your name is victory
All praise will rise To Christ our king
VERSE 3
The fear that held us now gives way
To him who is our peace
His final breath upon the cross
Is now alive in me
BRIDGE
By Your Spirit I will rise
From the ashes of defeat
The resurrected king is resurrecting me
In Your Name I come alive
To declare Your victory
The resurrected king is resurrecting me
VERSE 4
The tomb where soldiers watched in vain
Was borrowed for three days
His body there would not remain
Our God has robbed the grave
Our God has robbed the grave
DOXOLOGY
Praise God from whom all blessings flow
Praise Him all creatures here below
Praise him above ye heavenly hosts
Praise Father, Son and Holy Ghost.
BENEDICTION
Series Information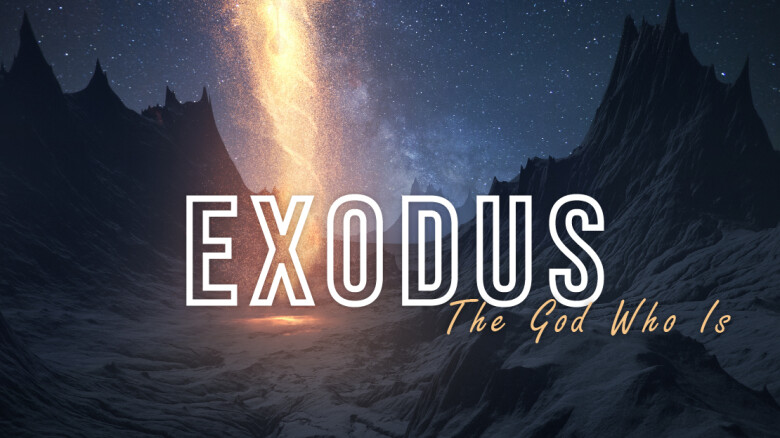 Exodus is the story of the God of redemption, the God who brings together a people, and the God who dwells with us. This fall, join us as we come together around a survey of Exodus, to worship God for all he is, and to lift up the Name of the Lord as those who have been given mercy to know his Name.